Where Does Your Drinking Water on Whidbey Island Come From?
WATER IS A PRECIOUS COMMODITY
As Whidbey's premier real estate brokerage, Windermere agents get asked about our Island's drinking water A LOT! Why? Water is a precious commodity, and one of the essentials of life. Knowing where your water comes from should be a primary concern of someone thinking about living on an island.
WATER ON WHIDBEY ISLAND
Many people who move to Whidbey have never experienced life with a well and even those who have rarely understand the implications that a well surrounded by saltwater might have. With the exception of the City of Oak Harbor and NAS Whidbey Island, who get all their drinking water piped in from the Skagit River (yes, it travels under the Deception Pass bridge), the rest of the island depends on tapping into our skinny Island's network of underground aquifers.
WHAT IS AN AQUIFER?
Think of an aquifer as a of pocket of freshwater, or more like a saturated sponge. Under the surface, sometimes DEEP under the surface, these pockets have enough permeability to absorb new water that seeps through the layers of dirt, rock, and gravel of the ground but can also store enough water to keep from running dry. Maybe a visual would help…
The problem with the graphic above for Whidbey Island is we are not on bedrock and we have very few large lakes. In fact, we are surrounded by saltwater which can become a real issue for saltwater intrusion when removing a large amount of freshwater from an aquifer too quickly.
WHAT IS SALTWATER INTRUSION?
Saltwater intrusion is a condition in which saltwater enters an aquifer and contaminates the water supply. The intrusion occurs when too much water is pulled from the aquifer, too fast. The reduction in pressure pulls in saltwater from the surrounding shoreline, ultimately contaminating the freshwater. Take-a-look at the graphic below for a better understanding.
Source: https://www.usgs.gov/media/images/process-saltwater-intrusion
HOW TO PREVENT SALTWATER INTRUSION
One way to prevent saltwater intrusion is to slowly and steadily remove freshwater from the aquifer and store it so when demand spikes, like during summer, the sucking from the aquifer doesn't become so intense that it pulls the saltwater in. Think of a straw poked into the pocket of freshwater. If you suck too hard it will pull saltwater in from the surrounding sea.
Another important activity is to regularly monitor wells across the island and collect enough data to see signals of wells that have a higher risk of saltwater intrusion than others.
HOW IS IT PREVENTED ON WHIDBEY?
Here in Island County, we are so incredibly lucky to have a full-time hydrogeologist, Doug Kelly. Doug has a very rare and critical position. He has helped develop a data-gathering system and monitoring program that helps to give Island County residents early warning signs if their well is at risk and provides them with steps to take to prevent that from happening.
WHERE DO I GO TO FIND OUT MORE?
There is a phenomenal database that anyone can access on Island Counties website called ICGeo and with the layer for wells turned on you can see where all the wells on Whidbey are located. Within a few clicks, you can also get a report that is hyperlinked with all sorts of additional information and a great color code to quickly gain a bunch of info on the health of the water.
If this gets too confusing and you want info on a specific well just call your trusty Windermere Real Estate Broker! If you do not have one of these gems already, call us today!
Oak Harbor 360.675.5953
Coupeville 360.678.5858
Freeland 360.331.6006
Langley 360.221.8898
If You Enjoyed Reading This Blog You Might Also Like: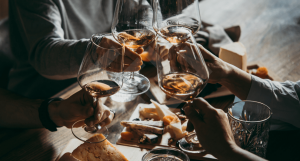 >
Winterize
Have you been outside lately? There has not been a coatless day in WEEKS and the trees downtown are one harsh wind away from officially being bare.
The point is…it's cold.
We all know the drill here. We put away our summertime flip flops in exchange for wool socks and thick boots. Our tank tops get pushed to the backs of our closets as sweaters emerge. Winter is coming and we are preparing our closets accordingly.
But how are you preparing your home?
It's hard to imagine failing to maintain the greatest investment we've ever made yet every year a shocking number of homeowners fail to do basic winterization tasks. Some don't even know that they should! To lend a helping hand here are the Top 5 Winterization Tasks you should do every year.
Clean out the gutters
Those beautiful fall leaves we've been watching descend so gracefully from the sky are the same ones descending into your gutters. Although that might not mean much now, when the temperature dips down to freezing it can mean a whole lot. Water unable to escape the drains due to fallen leaves expand as it freezes. This can cause gutters to become damaged or pull away from the house. Eventually these become overhead hazards that threaten to fall from above.
Cleaning your gutters may not be fun, but it is vital and pretty easy. Simply grab a ladder, some work gloves, a trash bag, ang get to work! You'll probably find it goes faster than you ever imagined.
Flush irrigation systems
If you have a sprinkler system for your home, it is of the utmost importance to have the lines professionally blown out before the cold hits! As we talked about with the gutters above, when water freezes it expands. This is bad news for those underground pipes! Frozen water that expands within irrigation pipes can cause pipes to crack or burst destroying your system and your yard. Below are some local companies certified to service irrigation systems:
Precision Plumbing and Backflow Testing | 360-914-0321
Everflow Irrigation | 360-840-4793
GCF Backflow Services | 360-320-9871
Evergreen Landscape & Maintenance | 360-679-2363
King Water Company | 360-678-5336
Cover outside faucets
Going hand in hand with blowing out that sprinkler system is covering ALL outside spigots. BURSTING PIPES! It's a very real issue that can cause thousands of dollars in property damage. Luckily, covering your pipes can be as easy as going to your local hardware store and picking up one of the below faucet covers. They are extremely easy to install and if you are even a little concerned we have found a helpful video to guide you through!
Fertilize the lawn
Winter months seem to only to bring with them frost and death. Luckily, that doesn't have to be the story for your lawn. Winter fertilizer helps your grass recover from minerals lost in the scorching summer sun and stock up on the nutrition it needs to withstand the cold winter months. This will prevent it from dying away when spring hits.
However, living on an island brings with it special considerations when it comes to fertilizing your lawn. Traditional fertilizers often contain high amounts of hazardous chemicals such as zinc, lead, cadmium, chromium or sometimes even arsenic. The risk of these chemicals is only elevated with the addition concern of their runoff into the Puget Sound. Living on Whidbey increases this risk drastically even for the most centrally located island properties. That's why we highly suggest using eco-friendly fertilizers such as Milorganite's Slow-Release Nitrogen Fertilizer which you can pick up Home Depot today!
Replace weather stripping
Every year countless sums of money are spent on the excess heating required to keep our homes warm in the winter months. But is all that money necessary? You'd be shocked to learn all the different ways in which the sacred warm air inside escapes from your home. Although some of these issues require big solutions like reinstalling insulation in your roof or switching to a better heating system altogether; quite a lot can be done in simply replacing some of your weather stripping around the house!
How long has the weather stripping along your exterior doors been there? Since you've moved in, right? Well every time that door opens and closes there is a little more wear to the stripping and after a few hundred passages it's no wonder it starts to give way.
Replacing weather stripping is easy and relatively cheap! Check it out:
You might also like:
Posted on November 20, 2019 at 12:06 am
Langley Office
Posted in
Real Estate
Tagged

change, change of season, home, home owners, investment, langley, protect your home, seasons, Washington, Whidbey Island, Winter, Winterize
What would a million dollars buy you in today's market?
Has the thought ever crossed your mind, "if I had a million dollars, what would I do with it?" What about if you had a million dollars to spend on just your house? What would it look like? What kind of area would you like to live in? What would a million dollars even get you these days? Just for fun, we want to show you just what a million-ish dollar home looks like in this current market in three very different places – Whidbey Island, Sequim, and Seattle!
Let's start right here at home on Whidbey Island!
1585 West Beach Rd, Oak Harbor – "Island Retreat"
Not far from the hustle and bustle of town, but far enough away to enjoy the calm, cool breeze of the Puget Sound is a real Island Retreat. Listed for $1,050,000, this home combines the simplicity of nature with a modern flare. Here you can enjoy your very private beachfront views from your living room, kitchen, bedroom or deck. Take a walk with Fido down the beach, relax with a steamy cup of coffee on your patio, enjoy views of the Olympic mountains, and soak in a romantic sunset with your special someone right from your own backyard. Now doesn't that sound heavenly?
8260 Coho Way, Clinton – "Island Paradise"
Clinton is known for breathtaking homes with stunning views, and this Island Paradise doesn't disappoint. For $1,598,000 you can call this little piece of paradise your own! Stay warm and cozy by your stone fireplace, and still enjoy a colorful sunset from your large living room windows. Soak in your very own jetted tub, entertain guests from your wrap deck with built in BBQ, play catch with the kids in your spacious yard, or cook a family favorite in your generously sized kitchen. You won't ever want to leave home!
Moving on to Sequim, and a totally different housing market…
110 Flying Cloud, Sequim – "The Heavenly Abode"
This home may not have you literally flying on clouds, but you will feel like you found a little piece of heaven! At $1,178,950, this heavenly abode boasts a modern and chic atmosphere, custom features and finishes, generously sized rooms, and breathtaking views. Lose yourself in your favorite novel while sitting in your very own library, immerse yourself in views of the Straight of Juan de Fuca and the Cascade Mountains while you soak in your oversized master bathtub, sip a glass of wine and breathe in fresh mountain air on your patio, work on a project in your walkout basement, or work from home in your spacious office. Who knew a little piece of heaven landed right here in Washington?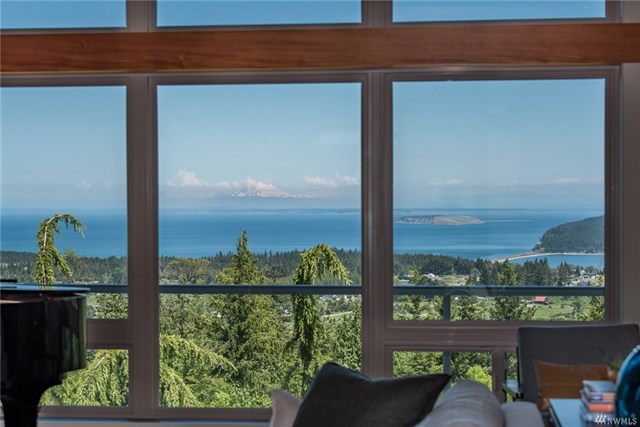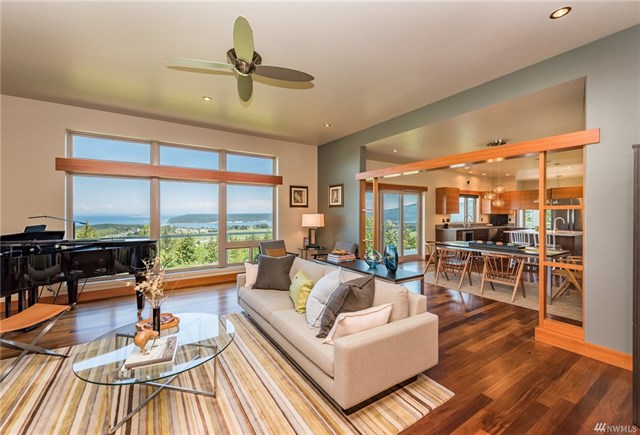 342 Schoolhouse Point Lane, Sequim – "Waterfront Mansion"
A waterfront mansion is what comes to mind when looking at this two-story home with waterfront views. Listed at $1,385,000 this home not only provides you with ample space for your family, but also a separate guest house! Your fenced in yard is perfect for the kids and dog to play, a heated shop with boat and RV storage will give you all the space you need for those projects you've been longing to do, host Sunday brunch on your patio overlooking Sequim Bay, snooze in your favorite armchair in your reading nook with large windows and beautiful views, keep an array of plants in your greenhouse year round, or soak up some sun on your private beach area. You'll find a little bit of everything on this paradise property.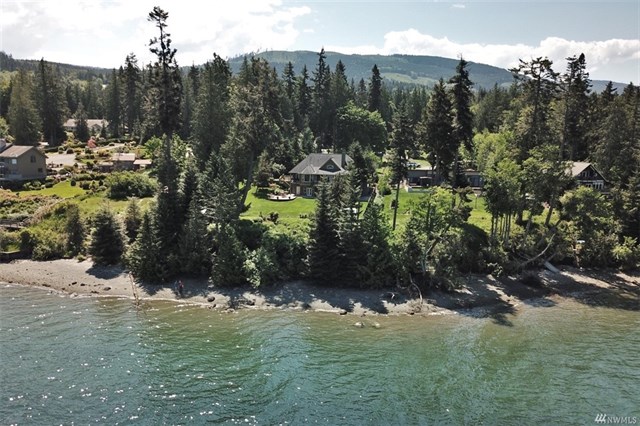 We've seen Whidbey Island and Sequim, but what does a million dollars in Seattle look like?
1758 NW 62nd St, Seattle – "The Tetris House"
It may not seem like much, but this Seattle home is modern and way more technologically up-to-date than Tetris. "The Tetris House" is listed at $1,084,900 and its modern flair makes for a unique appearance inside and out. Entertain guests with a home-cooked meal created in your gourmet kitchen, turn your lights on and off with the sound of your voice, read a book in the sun on your rooftop deck, relax sore muscles in your oversized shower, unwind at the end of the day with dinner in front of your fireplace, or go for a short drive to enjoy downtown Seattle nightlife. This stylish, and smart home will be the envy of all your friends.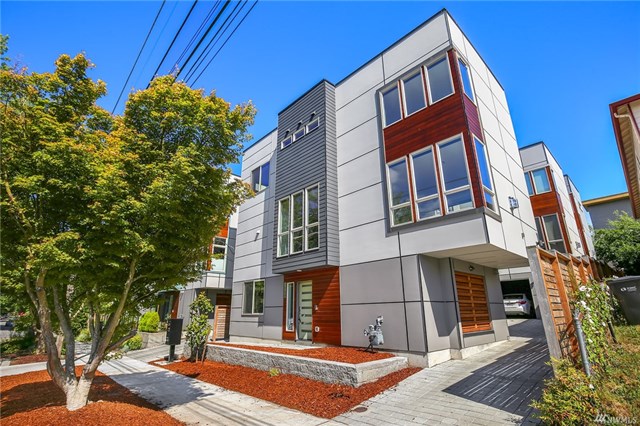 7748 32nd Ave NE, Seattle – "A Modern Oasis"
So new that you can still enjoy that new house smell! This Modern Oasis offers comfort and style in the heart of Seattle. For $1,550,000 you can be the first to occupy this home. Sit and enjoy the sound of rain on your covered patio, host family movie night in your spacious living room and lay out an array of snacks on your extra long kitchen island, relax in your master bath soaking tub, build a fort with the kids in your fenced in yard, and worry no more about dirt being tracked inside thanks to your conveniently located mud room off the front door. This home is a blank slate for your imagination to run with and make your very own!
Can you imagine yourself living in one of these unique homes? Maybe you aren't in the million-dollar market for your next home, it can still be fun to daydream a little!
You might also like: